On Thursday November 9th, Detroit Sound Conservancy will present an evening of performance, celebration and reflection on the legacy of the Graystone Ballroom and International Jazz Museum at the Jam Handy.
The program will feature the debut  performance of the New Graystone Ensemble led by world renowned drummer and composer Ali Jackson. 
More info and RSVP – DSCGraystone.eventbrite.com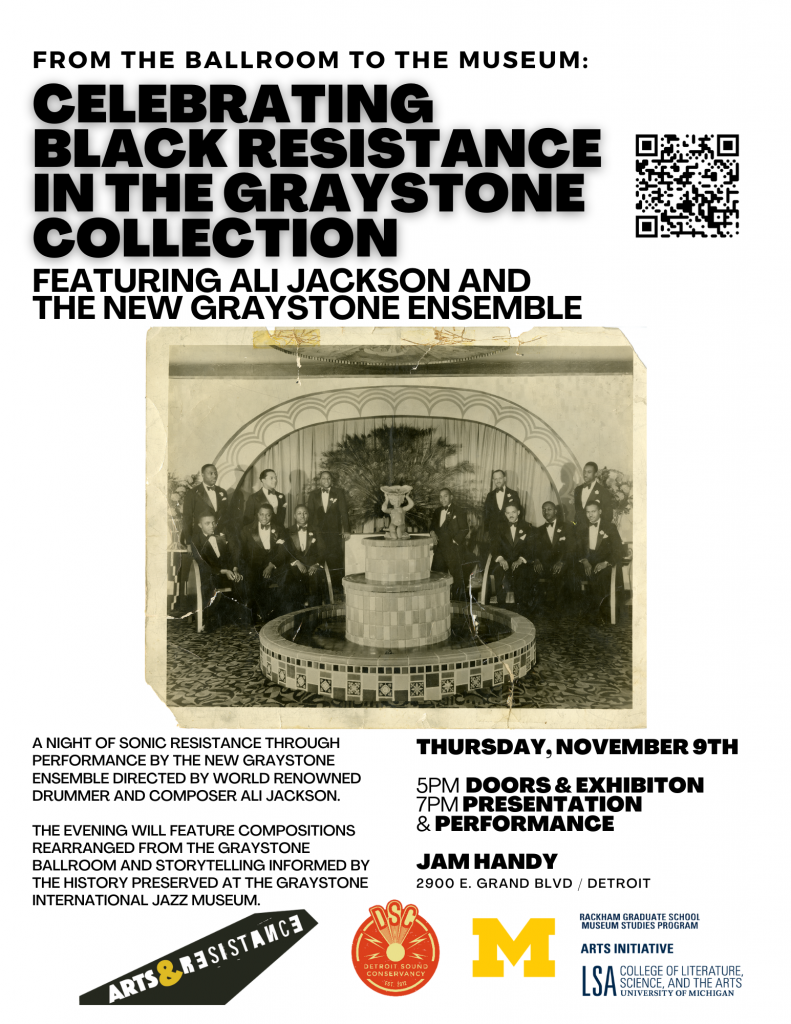 For nearly fifty years, the Graystone Ballroom was a beating heart of Detroit's vibrant developing music scene. In 1974, after the Ballroom's closure and demolition, James Jenkins, a Detroit bus driver, opened the Graystone International Jazz Museum. Its collection includes records, posters, and materials from the former Graystone Ballroom and shared ongoing programs related to Detroit's storied jazz legacy. The Graystone International Jazz Museum & Hall of Fame Collection was gifted to DSC in 2015 from the final Board members. DSC is actively working to preserve and share this legacy.
This free community event will be an opportunity to gather, reflect, and celebrate the legacy of the Graystone Ballroom and Museum with live music, oral history, and the premiere of a new musical composition by world renowned musician and composer Ali Jackson.
From 5pm to 7pm, an exhibition of artifacts and storytelling from the Graystone International Jazz Museum will be on display. Drinks and light refreshments will be served and guests.
At 7pm, Ali Jackson will premiere a new arrangement of music from the Graystone collection. Jackson is an award-winning musician, composer, arranger, educator, and percussionist. A Detroit native, Jackson has been a first-hand witness of Motor City music history since childhood. Jackson has gone on to perform, compose, record, teach, and lead bands with collaborators from all over the world. He served as the Drum Chair of the Jazz at Lincoln Center Orchestra in 2005, and has composed work for the Alvin Ailey Dance Company and the Lincoln Center Orchestra. As a bandleader, he has released six studio albums. As a performer, his style is distinct for its powerful swing, which is marked by a comprehensive knowledge of different styles, genres and historical eras.
Jackson's debut arrangement will be performed by the New Graystone Ensemble – a curated group of Detroit Jazz musicians honoring this important legacy. Jackson and New Graystone Tribute Ensemble will highlight the important role that reinterpretation and remixing play in preserving Detroit history and resisting the erasure of Black musicians' contributions. And by bringing together historic and contemporary Detroit sound, the performance will celebrate the continued legacy of Black sonic excellence and resistance in Detroit today.
The event is free and open to the public – donations towards continued stewardship of the Graystone Collection are welcomed and can be made at detroitsound.org/give. For more information, contact Detroit Sound Conservancy at (313) 757 5082 or info@detroitsound.org. 
This program is sponsored in part by the University of Michigan Arts and Resistance Theme Semester and the University of Michigan Museum of Art.