You can also donate to this campaign by mailing a check to Detroit Sound Conservancy 440 Burroughs St. STE 195 Detroit, MI 48202 or you can use your Donor Advised Fund and specify Blue Bird for campaign.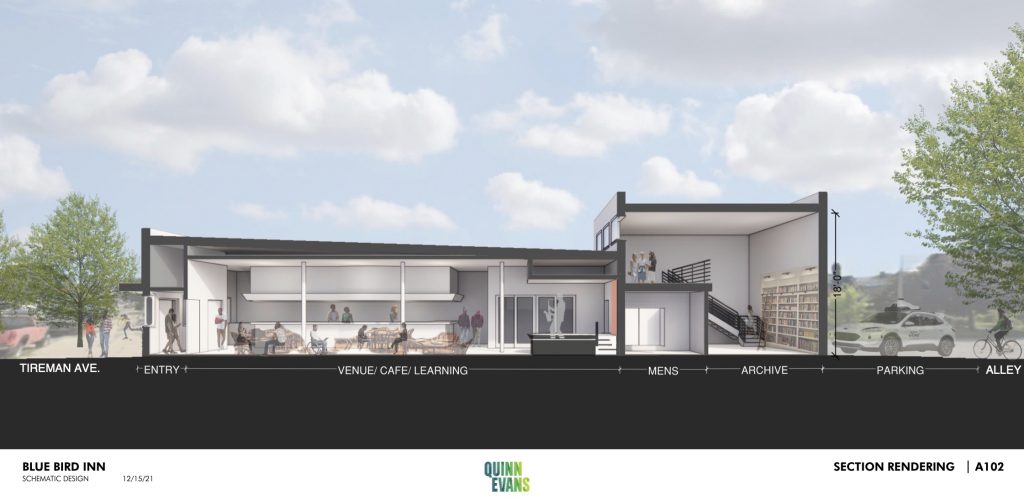 DETROIT SOUND CONSERVANCY CELEBRATES 10 YEAR ANNIVERSARY AND LAUNCHES NEXT PHASE OF CAPITAL CAMPAIGN TO REHABILITATE HISTORIC MUSIC VENUE
The only archival organization devoted to the preservation of Detroit music history makes progress in its rehabilitation of the Blue Bird Inn with a new campaign directed at interior restoration.
Detroit, MI — In concert with its 10 year anniversary, Detroit Sound Conservancy (DSC) announces the next phase of its capital campaign to rehabilitate the Blue Bird Inn on the west side of Detroit. In 2021, DSC raised $40,000 and replaced the roof and secured the historic jazz venue. With this next phase of fundraising, DSC aims to complete the architectural design of the Blue Bird Inn with the goal of reopening as an operating music venue, community center and Detroit's only cross-genre music archive. Award-winning architect Saundra Little of Quinn Evans Architects is designing the rehabilitation with the goal of completing construction by the end of 2023. In addition to these projects, DSC nurtures Detroit music through the production of live performances, educational outreach, community engagement and archival activation.
Founded in April of 2012, DSC's work ensures that Detroit's musical culture remains visible and alive—not only for musicians, but for all. The organization is led by archivist, griot and singer Michelle Jahra McKinney. "Detroit is one of the greatest music cities in the world but has not rightly been acknowledged for its legendary status," states McKinney. "As an organization, we advocate for the recognition of Detroit in shaping the classic and contemporary sounds of the nation and the world. The rehabilitation of the Blue Bird Inn will create access to this venue for generations to come. We could not be more proud of DSC's ten-year milestone and hope that our decade of work to preserve Detroit's music and culture inspires our communities to donate and get involved. Detroit deserves to be celebrated on the world stage."
"The goal of this project is to open The Blue Bird Inn once again as a neighborhood hearth for the community," states DSC Director of Operations, Jonah Raduns-Silverstein. "The Bird will serve three main uses: as a music venue, gathering space and cultural education center and archive. All uses will be welcoming, accessible and intergenerational with an emphasis on preserving our heritage for an innovative collaborative future."
As a key hub for Black life and culture throughout the 20th century, the Blue Bird Inn fueled an explosion of record labels and recordings that fundamentally changed the role of music in everyday life throughout the world. Originally opened in the 1930s, the Blue Bird Inn grew to become a neighborhood cultural hub as well as a destination for national audiences in the 1940s and 50s. Legendary house bands and jazz greats performed here, including Dorothy Ashby, Donald Byrd, Betty Carter, Alice Coltrane, John Coltrane, Miles Davis, Dexter Gordon, Thelonious Monk, Charlie Parker, Sarah Vaughan and many more. The Blue Bird Inn closed to the public in the early 2000s and was left vacant until DSC purchased it from the city after falling into tax foreclosure. The site is a designated local Historic District by the City of Detroit.
"As a lifelong Detroiter and musician, one of the things that I often reflect on is the ephemeral nature of our community cultural institutions," states world-class bassist and composer Marion Hayden. "Many are in private hands and are subject to the same financial inequities, infrastructure issues and neglect that the neighborhoods are. I applaud Detroit Sound Conservancy in its important work to preserve and revitalize these community places through their archival activities, research, urban archeology and investment. The Blue Bird Inn was an incubator for jazz music, where trumpeter Miles Davis came for a respite and pianist Terry Pollard blazed the keys! I encourage everyone to support DSC in its mission to tell the story of Detroit through the lens of the community."
DSC Board President Larry Williams states, "The rehabilitation of the Blue Bird Inn not only represents our commitment to preserving an important musical institution, but also looks to our future, providing a home for the next generation of Detroit artists." Williams is a judge in the 36th District Court in Detroit.
ABOUT DETROIT SOUND CONSERVANCY
Detroit Sound Conservancy (DSC) is the only archive devoted to the preservation and celebration of Detroit music. Through archival practices, education programs, performances and rehabilitation initiatives, DSC expands access to and evidence of the history that proves Detroit is the most influential musical city in the world. Detroiters innovated techno, funk, rock and jazz, and have shaped nearly every musical genre, from punk and rap to soul and blues. Across generations, deep commitment and fearlessness mark the essence of the Detroit sound. DSC spreads its resources to support archival practices that amplify this cultural spectrum and safeguard its history—of people, movements, legends and lore. Through this work, DSC preserves the vivid memory of musical movements, uplifts the agency of artistic legacies, counteracts reductive representation and puts listening at the center of community.
ABOUT ARCHITECT SAUNDRA LITTLE
Saundra is an accomplished architect and dedicated advocate for the revitalization of the urban realm. With expertise in building assessments and creative yet practical design strategies, she helps clients transform buildings, increase property values, and bring new life to aging communities.
Saundra's portfolio reflects the diversity of the neighborhoods she champions, with successful cultural, institutional, educational, and commercial projects of all sizes. Her work in design, revitalization, and adaptive use projects consistently demonstrates a respect and sensitivity to the unique architectural heritage of local neighborhoods. Through her devotion to this challenging work, she has helped renew, uplift, and sustain vulnerable communities.
Saundra has led award-winning projects including the Tower on the Maumee in Toledo, Ohio; the national Arab-American Museum in Dearborn and the David Klein Art Gallery and the Randolph Hotel in Detroit.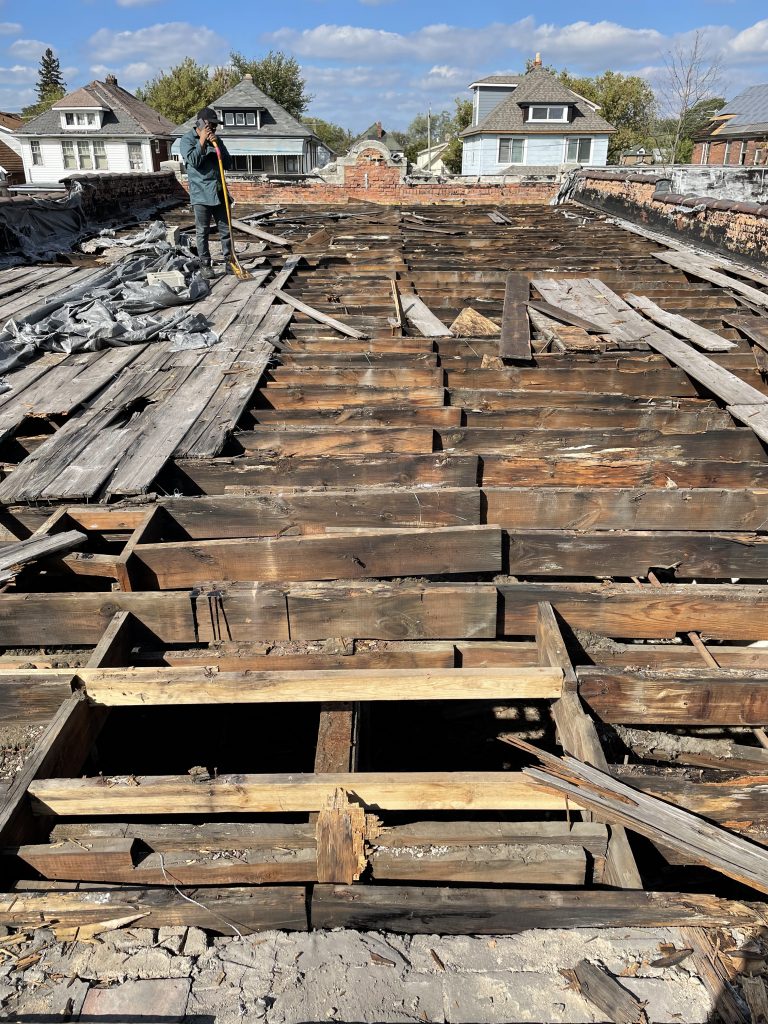 Updated March 2022