An internationally significant Black historic site where world-altering music was recorded is to be put at risk for a highway service road. Is this OK?
This post was updated with more endorsements on December 18, 2020.
What Is At Stake
United Sound Systems Recording Studios, an internationally significant Black historic site, where world-altering music by some of the greatest artists in American history, including John Lee Hooker and Aretha Franklin, will be put at risk from irrevocable damage for a highway service road.
[For a list of just some of the multitude of performers, arrangers, engineers, songwriters, and producers that worked creatively at United Sound — from members of the Detroit Symphony Orchestra to the MC5 — click here.]
Is this OK?
Is a service road more important than our City's world-renowned musical legacy? And if we decide it is, what does that decision say about our priorities as a city, state, and nation?
A Reminder: Motown Started Here
Last year Motown Records celebrated 60 years. Motown's first recordings were made at United Sound! [Listen to Marv Johnson's "Come To Me"]
Background: MDOT Owns United
Last year, Michigan's Department of Transportation purchased United Sound so it could build a service road for I-94.
Our State Historians Think It's OK
Now MDOT, with the permission of the Michigan Economic Development Corporation administered State Historic Preservation Office, has published an update of that commitment.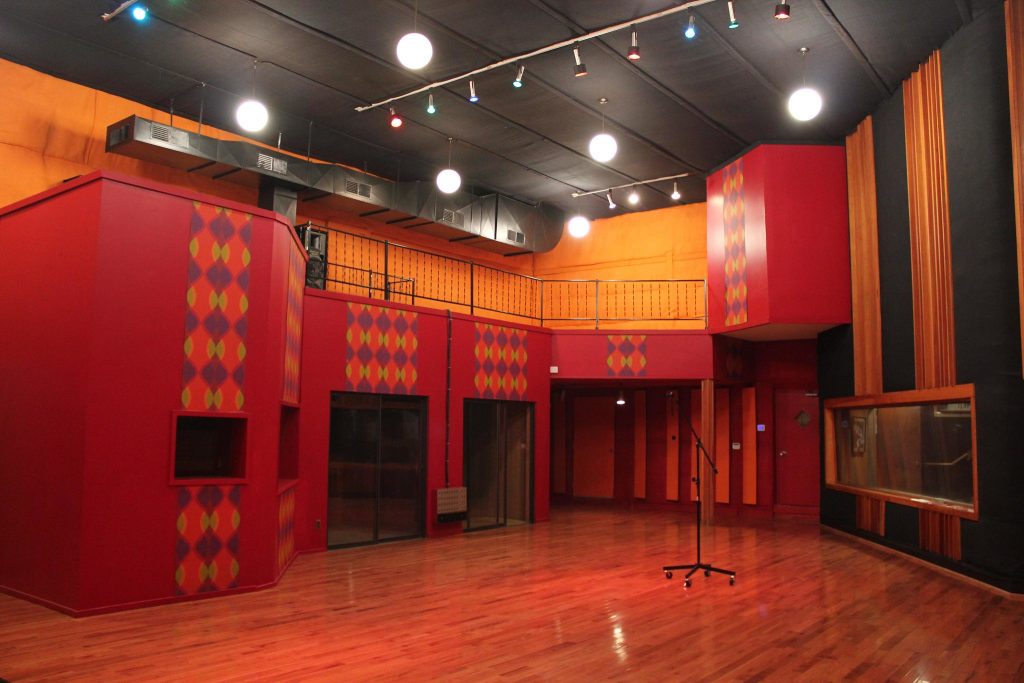 If We Move It, We May Lose It
Upon review, Detroit Sound Conservancy has many questions. These include:
— How will MDOT guarantee the structural integrity of the 100 year old original house, which has three different studios representing a series of ingenious adaptive reused spaces where not one detail, from ceiling tiles to the toilet bowl, were not used to timeless musical effect? [Listen to John Lee Hooker's "Boggie Chillen" recorded upstairs in the original house.]
— How will MDOT maintain the integrity and authenticity of Studio A, the large concrete block addition, with radiant heated floors, custom-made wooden booths for vocals, drums, and consoles, and echo chamber? Or will the structure be lost and need to be replaced? [Listen to Parliament's "Flash Light" recorded at United Sound.]
— How will MDOT maintain the building's basement where historically its equipment was fixed, recording consoles were tweaked from below, and jukeboxes were repaired? Or will this structure, and the traces of this history, be lost and need to be replaced? [Listen to Aretha Franklin and Whitney Houston's "It Isn't, It Wasn't, It Ain't Never Gonna Be" recorded at United Sound, Studio B.]
— And if the Emma A. Fox Home next door, historically significant in its own right for being the home of early feminist activist Emma Fox (1847-1945), is demolished, as is currently MDOT's plan, how will MDOT guarantee that the studio will be able to conduct business as a recording studio? We believe this home is the only thing protecting United from noise generated by I-94 traffic.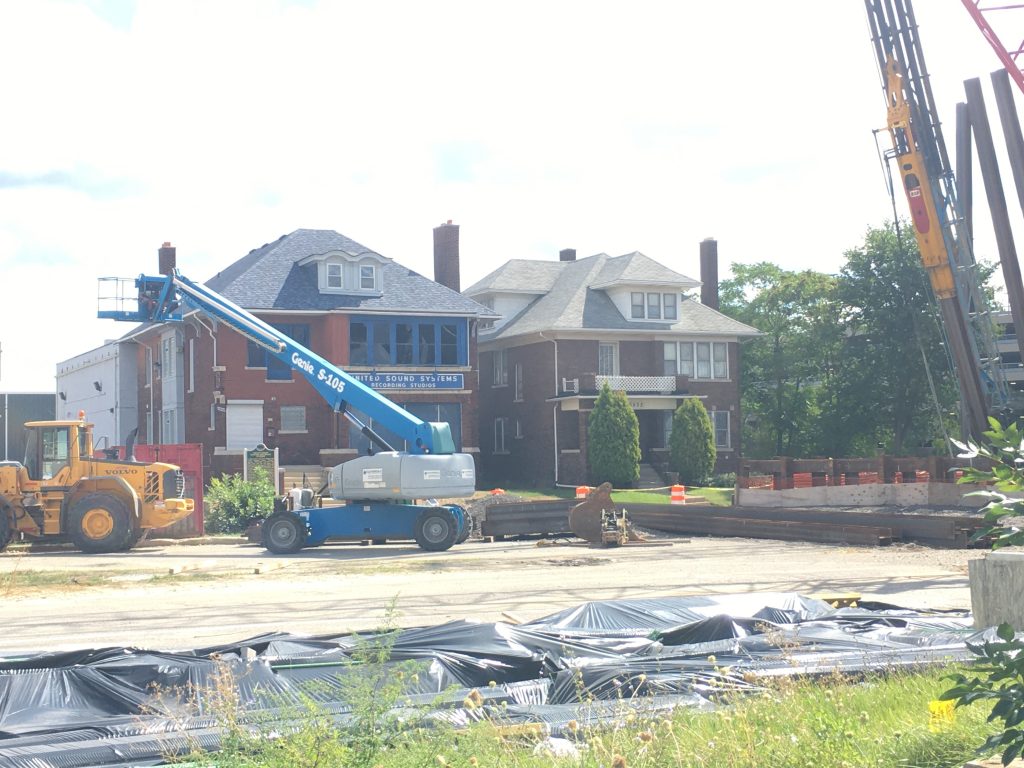 Do we honestly believe that MDOT will preserve the capacity for sonic magic in these historically significant spaces?
Do we honestly believe that MDOT will preserve the capacity for sonic magic in these historically significant spaces?
Our conclusion is that, barring a set of structural engineering and historical preservation miracles, Detroiters and the world stand to lose much if United is moved or–in an outcome MDOT still refuses to rule out–is demolished.
And yes, you read that correctly: MDOT has still not ruled out the possibility of demolition.
And yes, you read that correctly: MDOT has still not ruled out the possibility of demolition.
So today, we invite Michigan residents and their elected representatives to ponder a fundamentally different approach: What is gained if this remarkable Black historic site and the Fox Home stay right where they are? What if United were to remain intact and authentically whole? Or what if their beloved service road was rerouted to the other side of I94? Surely a parking garage is not as significant as the site of Dizzy Gillespie's record label during the 1950s! What if instead of dedicating many hundreds of hours and many thousands (millions?) of dollars on a seemingly impossible set of tasks, MDOT decided to conduct the engagement and build the partnerships to determine what we want this temple to Black creative excellence–this Mothership–to be, now, for Detroit?
We Are Waiting For YOU
[Yes, United was also the site of a duet between Aretha Franklin and George Michael!]
To be clear: we are not calling for more public hearings. A public hearing is not community engagement. Instead, we are asking: when will the State of Michigan and its agencies convene the legitimate stakeholders of United's legacy — the still living musicians, artists, producers, songwriters, and arrangers (and the estates of those now passed on) — to consider the future of United Sound Systems as a resonant, impactful, public good?
Now State of Michigan: Can you get to that?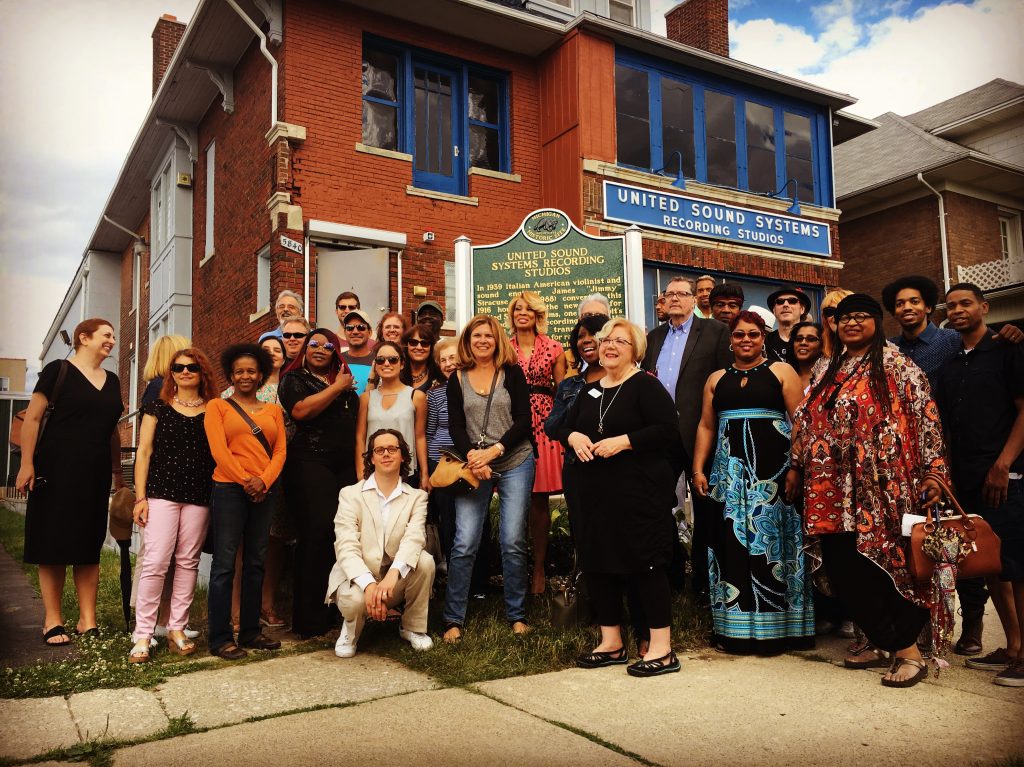 Who's a DSC?
Detroit Sound Conservancy is a nonprofit community-based archive presently located in New Center but soon to be located at the Legendary Blue Bird Inn on the City's Old West Side. We are committed to preserving Detroit's musical legacies through preservation, education, performance, and placekeeping. Over the last decade, we have led the fight to preserve and celebrate United Sound and have a track-record of in-depth, prolonged, resident engagement. As part of those efforts, we have supported a successful local Historic District process in 2016 and led the successful effort to place a Michigan Historical Marker at the studio in 2017. In addition, we have attended public hearings, commented at City Council meetings, interviewed United Sound veterans, conducted archaeological surveys, exhibited studio artifacts, informed politicians, attended closed-door meetings, and, most importantly, informed and advised the public as to what was at stake in the fight to preserve United Sound.
Media and United Legacy Contact
Carleton S. Gholz, PhD, Founder & Executive Director Emeritus, Detroit Sound Conservancy / gholz AT detroitsound.org / 440 Burroughs, Suite 195, Detroit, MI 48202, 313-757-5082.
Historical Marker Text
United Sound Systems Recording Studios: In 1939 Italian American violinist and sound engineer James "Jimmy" Siracuse (1903-1988) converted this 1916 house into the new home for United Sound Systems, one of Detroit's first independent recording studios. He offered recording, transcription and production services for radio programs, record companies, musicians, singers and private citizens, including families who made recordings to send to soldiers during World War II. In 1946 the internationally broadcast Inter-Racial Goodwill Program was recorded here. Artists who created music here in the 1940s and 1950s included John Lee Hooker, Johnnie Ray, Dizzy Gillespie, Jackie Wilson and Alberta Adams.
United Sound Systems Recording Studios: James "Jimmy" Siracuse enlarged this studio to accommodate orchestras and motion picture production in 1956. Marv Johnson's 1959 song "Come To Me," recorded here, was the first single for Tamla Records (later Motown Records). African American guitarist, producer and entrepreneur Don Davis (1938-2014) bought the studio in 1972. He worked with new and established artists from all musical genres, but especially soul, disco, funk, and rhythm and blues. Among them was Johnnie Taylor. His 1976 song "Disco Lady" was the first single certified platinum by the Recording Industry Association of America. By the mid-2000s, United Sound had closed. It reopened in 2014.
Signed
Alex Alexander
Alexander is a former United Tour Guide.
Ralphe Armstrong
Armstrong is a bassist and Board Member of the Detroit Federation of Musicians.
Ben Beverly
Beverly is a Detroit-raised longtime music industry professional who also recorded at United with the band Enemy Squad.
James Carter
Carter is a jazz musician who made his recording debut at United at the age of 13.
Kiko Davis
Davis is the widow of former United Sound owner Don Davis and the Founder and President of the Don Davis Legacy Foundation.
"Detroit Soul Ambassador" Melvin Davis
Davis is a songwriter, musician, and recording artist.
"Detroit's Queen of the Blues" Thornetta Davis
Davis recorded at United with George Clinton as well as a solo performer.
Samantha Ellens
Ellens is a local archaeologist who partnered with DSC to conduct a survey of United Sound Systems' basement in 2016.
Peter J. Hammer
Hammer is a Professor of Law & Director of the Damon J. Keith Center for Civil Rights, Wayne State University Law School.
Joe "Pep" Harris
Harris is the frontman for The Undisputed Truth.
Marion Hayden
Hayden is a jazz bassist and recording artist.
Maurice "Pirahnahead" Herd
Herd is a musician, arranger, and engineer.
Francies, Sandy, and Lindsey Herdon
Francies is the daughter, Sandy is the granddaughter, and Lindsey is the great-granddaughter of United Sound founder James Siracuse. Francies' husband and Lindsey's grandfather, William Herdon, was an engineer at the studio.
Zakiya Hooker
Hooker is the daughter of blues legend John Lee Hooker.
Karen Hudson Samuels
Hudson Samuels is Executive Director of the WGPR TV Historical Society and Chair of the Black Historic Sites Committee.
McKinley Jackson
Jackson is a musician, songwriter, recording artist, and Funk Brother who spent many hours making music at United.
Kimberly S. Johnson
John is an arts consultant and historic preservation specialist.
Jeff Kollath
Kollath is the Executive Director of the Stax Museum of American Soul Music in Memphis.
Christian Matijas-Mecca
Matijas-Mecca is an historian and Professor of Dance and Music at The University of Michigan. He is currently writing a book entitled, Detroit's Lost Soul: The Story of Holland-Dozier-Holland's Invictus and Hot Wax Records and a City's Erased Legacy.
Estate of Charlie Parker
Parker, saxophonist and composer, was a titan of 20th century music. He recorded at United Sound Systems with Miles Davis in 1947.
Jeremy Peters, FRSA
Peters is Assistant Professor of Music (Music Business) at Wayne State University.
Preservation Detroit
Preservation Detroit strives to create a Detroit where cultural, architectural, and community preservation is integrated into every aspect of the city's development.
Claudette Robinson
Robinson is the "First Lady of Motown" and an original member of the Miracles.
Matt Ross-Spang
Ross-Spang is a Grammy award winning engineer, mixer, and producer with extensive experience at historic studios such as Sun in Memphis.
Nick Schroeck
Schroeck is an Associate Dean at University of Detroit Mercy and a longtime adviser regarding the I94 Project and United Sound Systems.
Paul Schauert
Schauert is a Assistant Professor of Integrated Arts and Humanities at Michigan State University.
Mary Sheffield
Sheffield is the Councilperson for District 5 in Detroit where United Sound Systems is located.
Ron Skinner
Skinner is a producer and recording engineer at CBC Music.
Patricia Terry-Ross
Terry-Ross is a 2017 Kresge Eminent Artist and recorded at United Sound.
George Troia, Jr.
Troia is the President of the Detroit Federation of Musicians, Local 5.
Ed Wolfrum
Wolfrum was a longtime recording engineer at United Sound Systems.