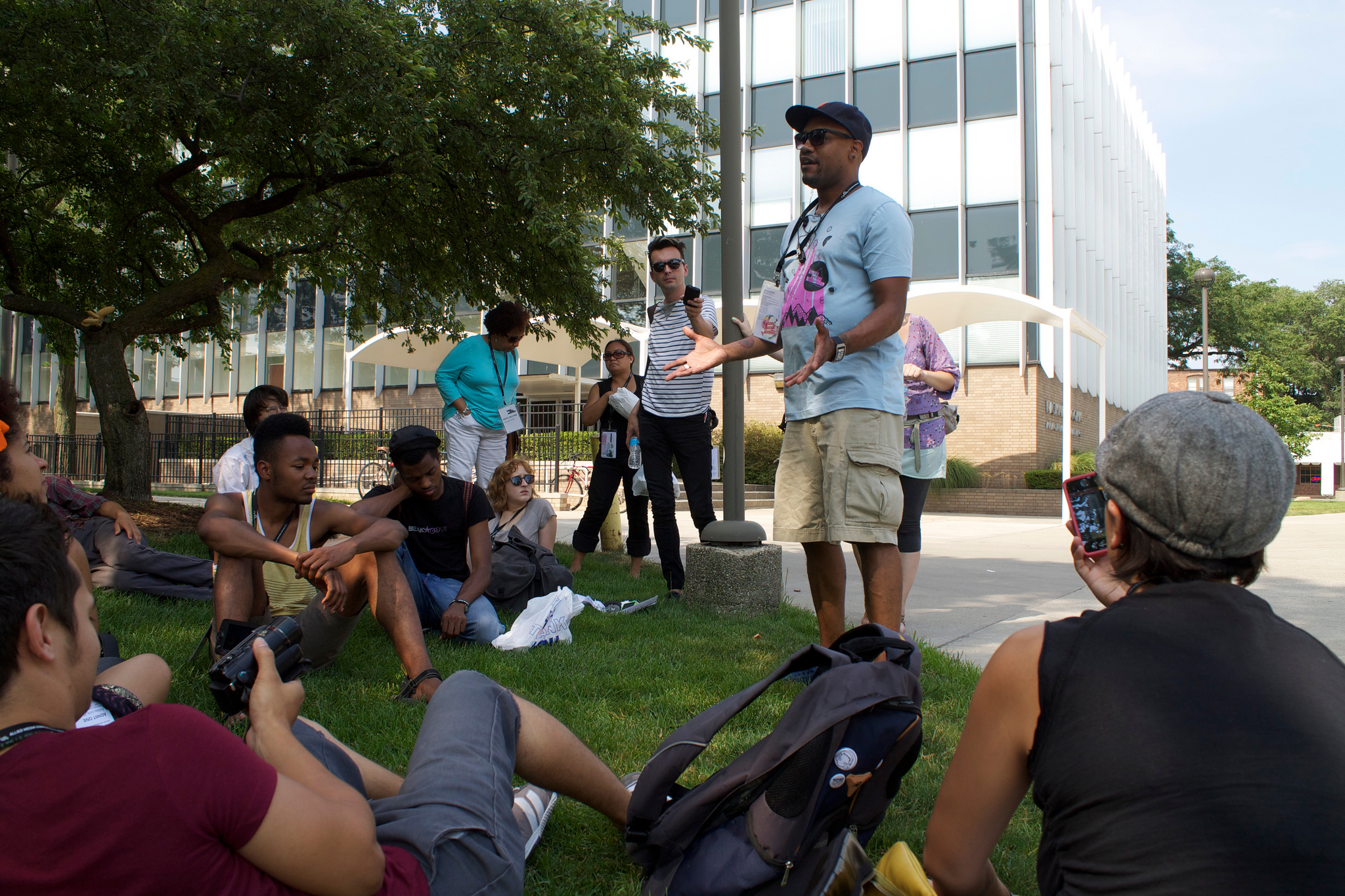 Sharing & Celebrating the sonic city we love
Join Detroit Sound Conservancy on a bus tour of some of Detroit's most important musical sites, past and present. In the process, you will learn about our nonprofit vision, mission, and goals through the process of cultural preservation at sites like the famous jazz venue The Blue Bird Inn. After this tour you will not just know more about Detroit's music, people, and geographies, but also will learn more on how you can play a part in preserving and celebrating Detroit's musical legacies.
Tours are by appointment only. To book a tour please contact us at info@detroitsound.org or call direct at 313-444-8242
Please Tweet to #dsctour
Potential Itinerary
Paradise Valley
Beatrice Buck's Paradise Valley Park
Dilla's Delights
Spectacles
Cafe Mahogany
Virgil Carr Center
Hastings Street
Downtown
St. Andrew's Hall
Music Hall Center for Performing ArtsGem Theatre
Michigan Opera Theatre
1515 Broadway (now Paramita Sound)
Music Institute
National Theatre ENDANGERED
Woodward Corridor
Fillmore (formerly The State)
Fox Theatre
Serengeti Ballroom
Bankle Building
Orchestra Hall
Gotham Hotel
Garden TheaterMajestic Theatre
Graystone Ballroom
Cass Corridor and Midtown
Gold Dollar
Zoot's Coffee House
Detroit Public Library
Walter P. Reuther Library
Charles H. Wright Museum of African American HistoryThe Majestic / Magic Stick
New Center
Northern Lights Lounge
United Sound Systems ENDANGERED
The Woodward
Underground Nation
Stanley Hong's
Old West Side
West Side
Grande Ballroom
Son House's Grave
Hip Hop Shop
Detroit Music Center
Baker's Keyboard Lounge
Menjo's Complex
East Side
Club Heaven
Simpson's Records
Conant Gardens
Archer Records
Raven Lounge
Hamtramck
Small's
Motor Lounge
Paychecks
Detroit Threads
Lo & Behold
North End
Ruth Ellis Home
Phelp's Lounge
Apex Bar
One Mile
Motown Museum
Exhibit 3000 at Submerge
Previous Tour Highlights
2018
2015

Guest griots: Luis Resto and Curtis Lipscomb
2012
On June 30, 2012 the Detroit Sound Conservancy (DSC) with Pont Productions put together a music tour of Detroit for the Allied Media Conference. On this guided off-site driving tour of legendary Detroit music places, conference attendees explored the landscape of Detroit's music history through the stories of some of the city's music griots. That tour was led by Jocelyne Ninneman and Carleton Gholz with a set of griots that included Cornelius Harris (Alter Ego Management), Michelle McKinney (Charles H. Wright Museum of African American History), SupaEmcee, and Adriel Thornton (Fresh Corp). You can see images from the 2012 Allied Media Conference tour here.
Updated 12 February 2019